Snapchat is one of the most well-known social media platforms. According to Statista, the number of its users is projected to increase to 90 million people.
Snap ads are a great way to reach people who don't use Facebook, Instagram, or TikTok. It would be a shame to miss out on such a marketing channel which is why we've prepared a step-by-step guide on how Snapchat ads work.
How to set up a Snapchat Ad Account
To begin your Snapchat advertising journey, you'll need to sign up for its special marketing platform, i.e. Business Manager. With this tool, you will be able to manage multiple Ad Accounts and business assets, add users, and various roles, as well as monitor your ads.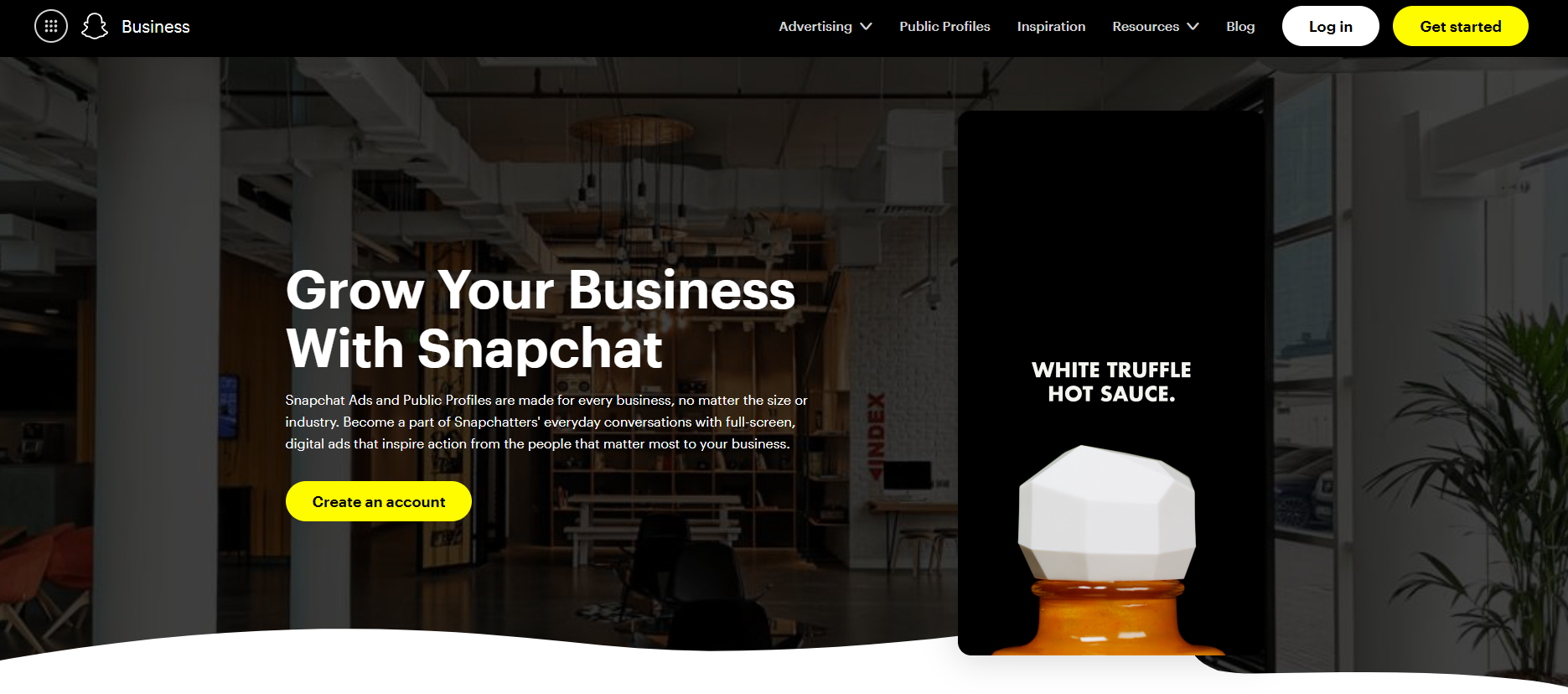 Click on Get started to create an account.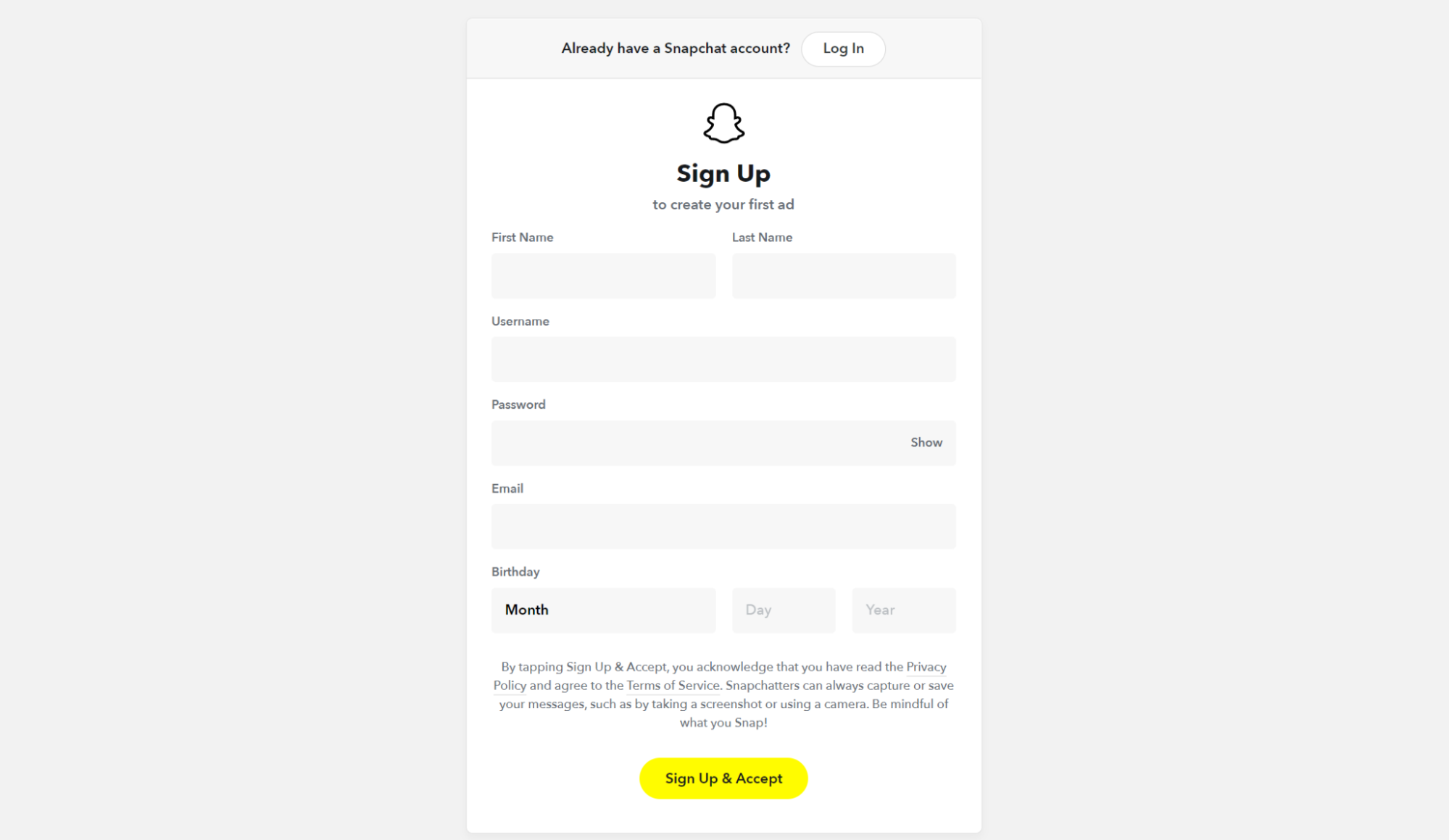 To run ads, you will need an Ad Account. The first one will be created automatically when you sign up for Snapchat Business Manager. The billing information needs to be filled in to launch ads. You will also be able to create multiple Ad Accounts within the same Business Manager.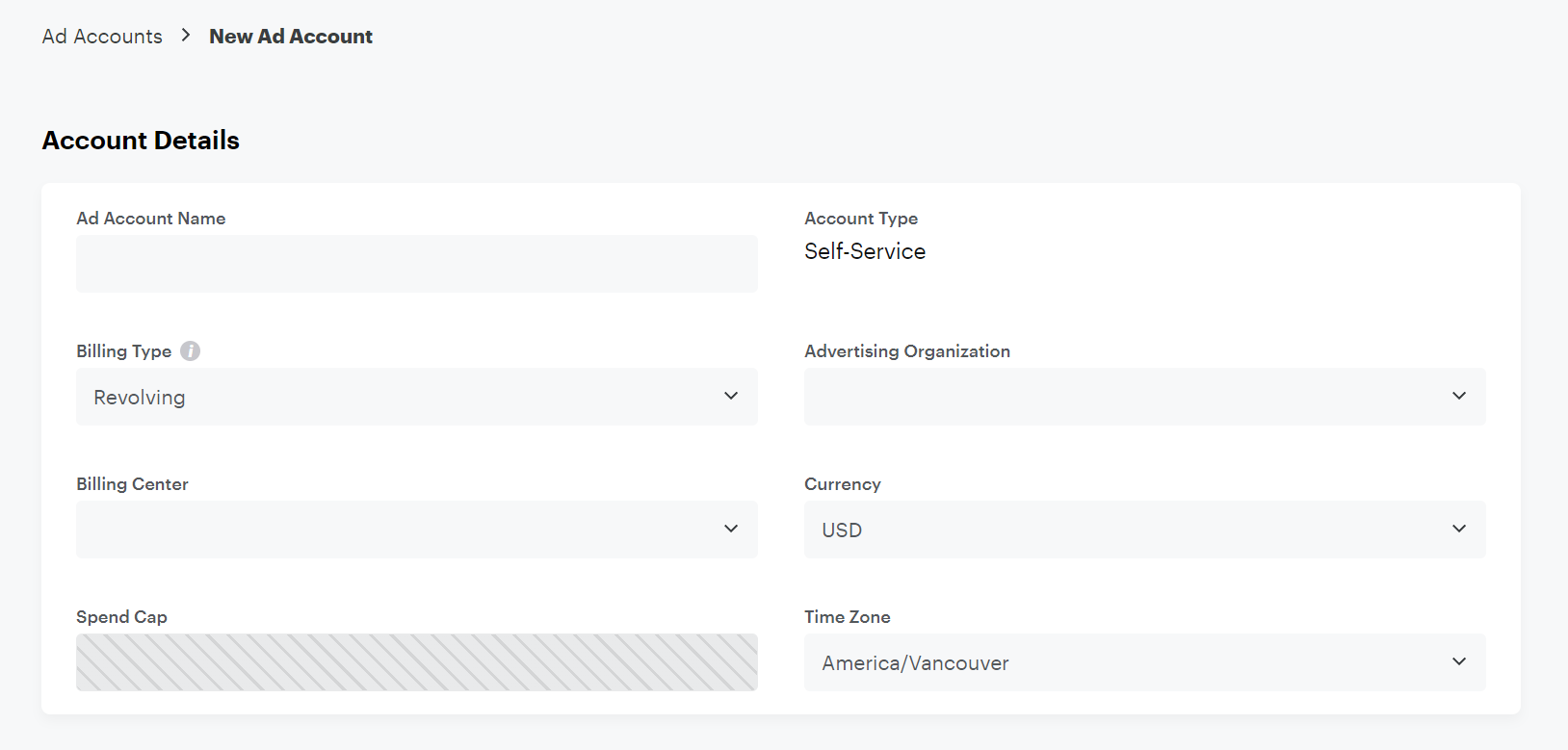 Once the Ad account is created, it needs some time to get reviewed by Snapchat. You'll be able to use it when its status changes to "Active".
How to launch ads on Snapchat?
To start advertising, you'll need to open the "Create Ads" section in the dropdown menu in the upper left corner.
Snapchat gives you a choice of how to create an ad. You have the following options: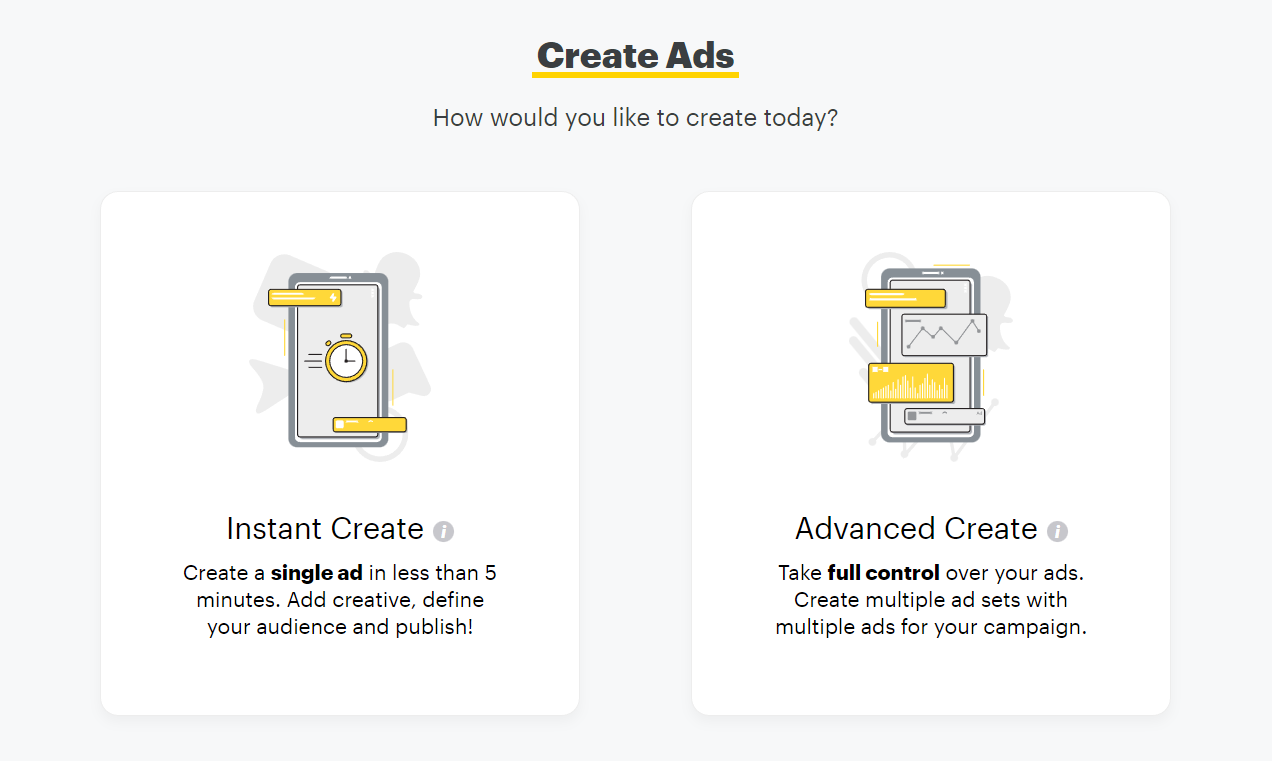 We will start with Instant Create ads. If you're willing to launch Advanced Create ones, you can skip the next point and move directly to the Advanced ad creation.
Snapchat Instant Create ads
Instant Create is a simplified way to create a single ad in less than 5 minutes and in just a couple of steps. Sure, it provides quite limited options, but it's the best way to quickly get started with your ads.
First, you have to define your advertising goal. Make sure it corresponds to what you actually want to achieve with your ad campaign.

Each objective has its own requirements. Let's go through all of them.
Website Visits is used to redirect users to your website. To do it, just insert your website's URL. You can also tick the box to import images from your website to use them in your ad.

Promote Local Place allows you to promote your physical location. Note that it's available only for businesses existing in the Snapchat Maps database. Input your website URL to use images from it.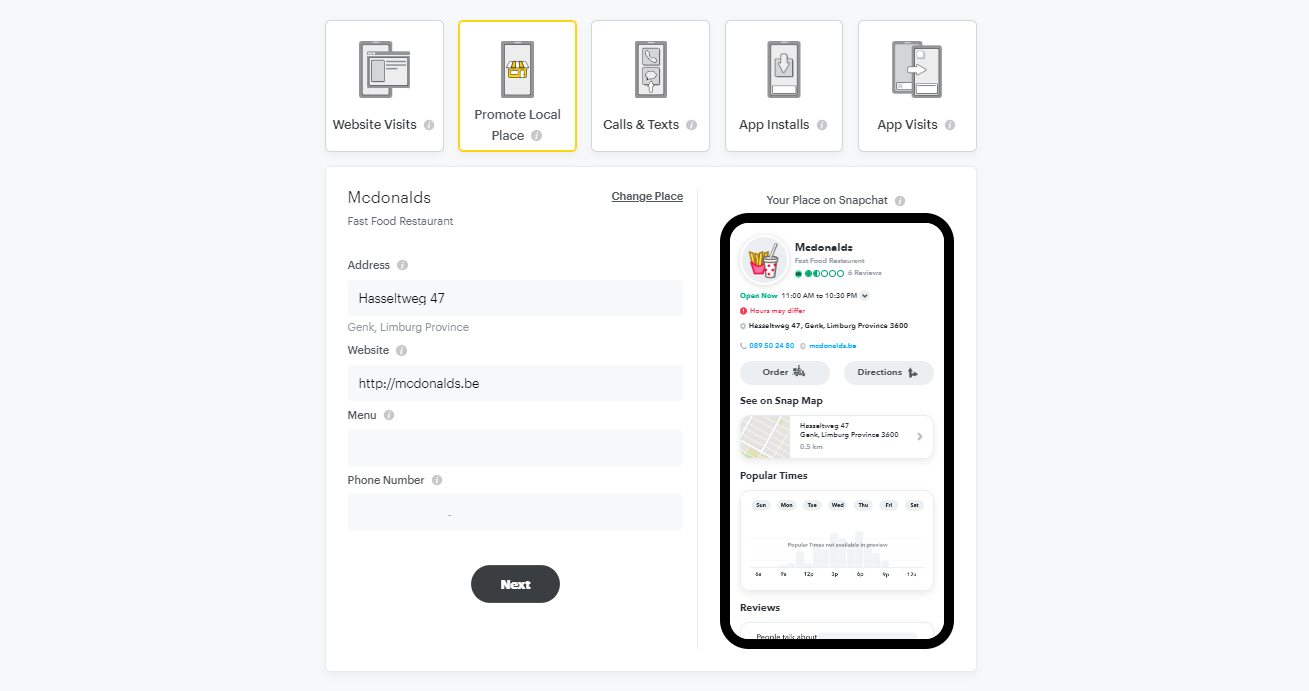 Calls & Texts aims at getting people to contact your business via phone calls or text messages.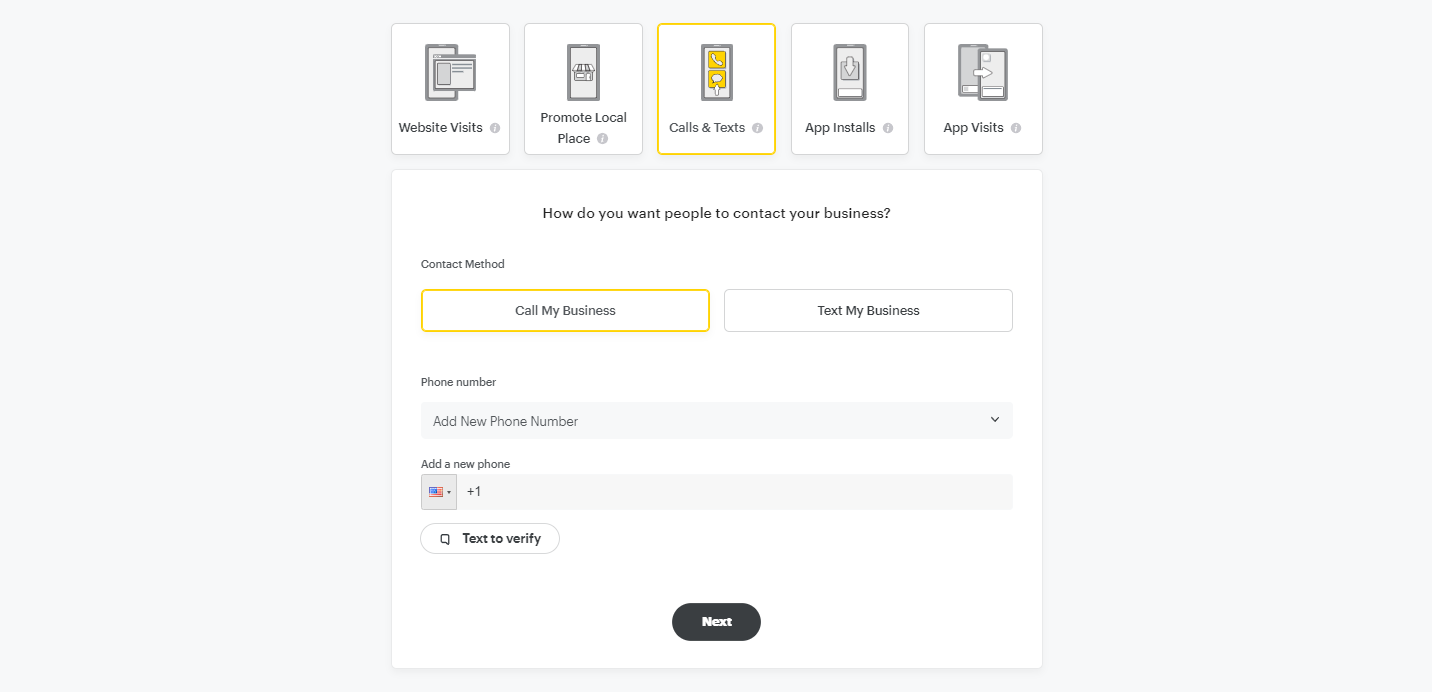 App Installs will work for those who want to get people to download their app. Select the operating system and find your app in the dropdown. Note that only corresponding operating systems will be targeted.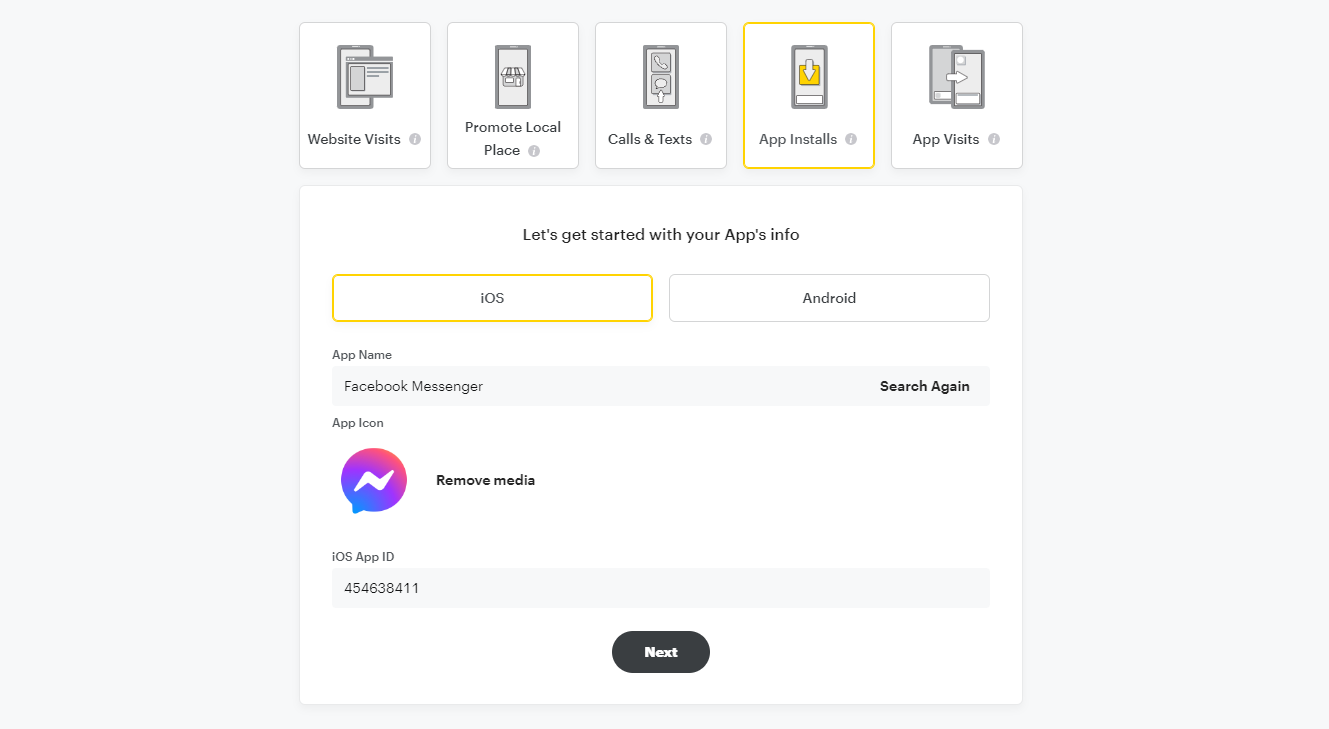 App Visits will prompt people to visit your app. You'll need to input all the necessary information and choose whether you want users to access your app via the app store or via the web page.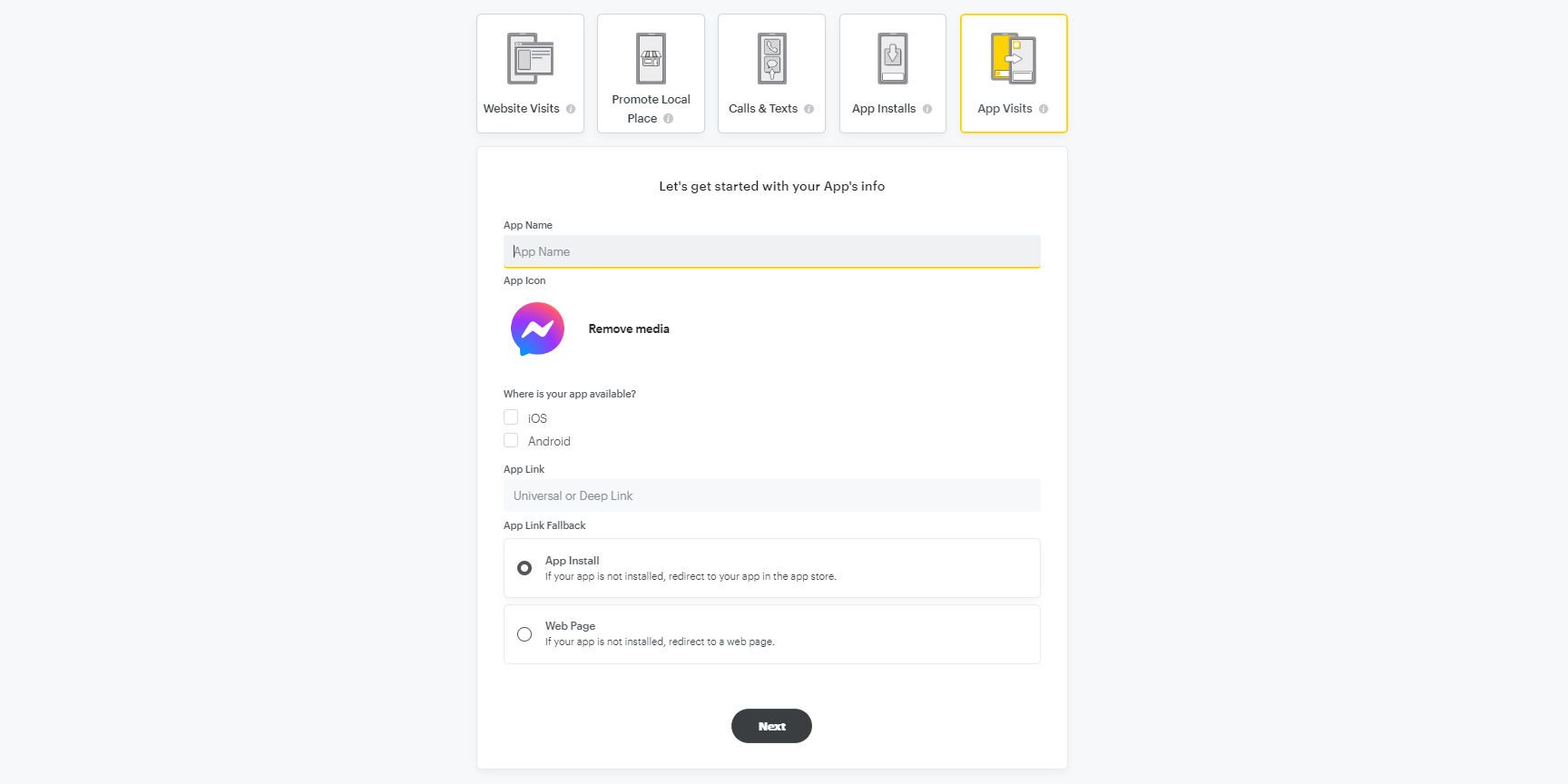 2. The next step is to upload a video or photo you want to use in your ad. Note that videos and photos must be at least 270x480px, but the recommended size is 1080x1920px. The visuals should be eye-catching and correspond to the message of your marketing campaign.
3. Then, you need to provide some additional information about your ad such as Business name, headline, CTA, and pick a template. Simply put, this step is where you set up the way your ad will look. Make sure to think of something engaging so that the ad converts better.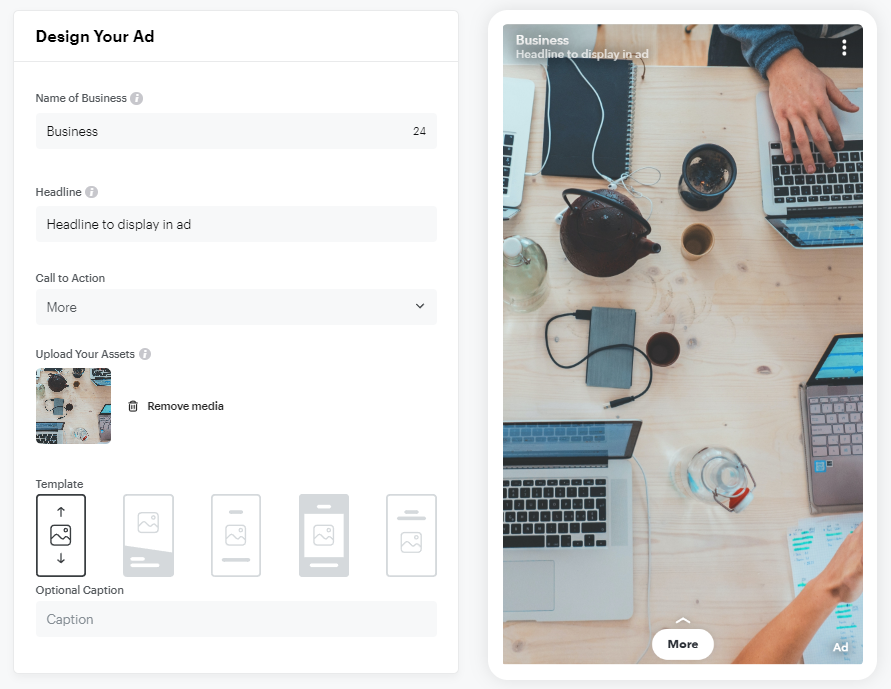 4. Snapchat targeting options are based on users' demographic information, location, interests, and the device they use. Here's what you need to set:
Demographics. Select the gender, age, and language of the people you want to reach.
Location. Specify the geography where your potential clients are located.
Interests & Custom Audiences. You can base your audiences on what people like, use your own customer lists, or create lookalike audiences to approach similar people.
Devices. Whether the device people use is essential for your ad campaign or not, you will need to indicate that it is in this section.
Usually, the more specific targeting is, the more relevant users will see your ad. At the same time, you won't want it to be too narrow as this approach may exclude potential buyers.
5. The final step is setting up your campaign's budget and schedule. Think of the time you want your ad campaign to run and define its budget. You can select either a daily budget or a lifetime budget. Also, you can choose between various bidding strategies. By default, the Auto-Bid strategy is selected. It is aimed at maximizing the campaign's result by spending your entire budget. Target Cost will keep your average CPA below your target cost, and Max Bid will set a limit on how much you bid.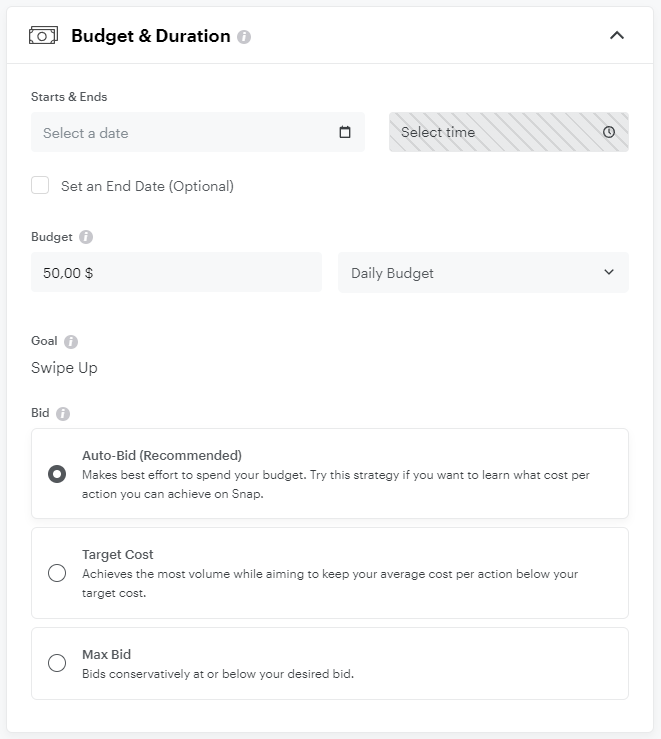 The last thing you need to do is click on Publish. Once your ad is reviewed, it'll start running according to your schedule.
Snapchat Advanced Create ads
Advanced Create is the best choice if you need more specific options while creating a more complex ad campaign with multiple ad sets and ads in it. If you want to have full control over your ad, this is the type of campaign you need to build.
1. The first thing you need to set at the Ad Campaign level is the campaign objective. Here, you'll have more options to choose from. Let's go through all of them: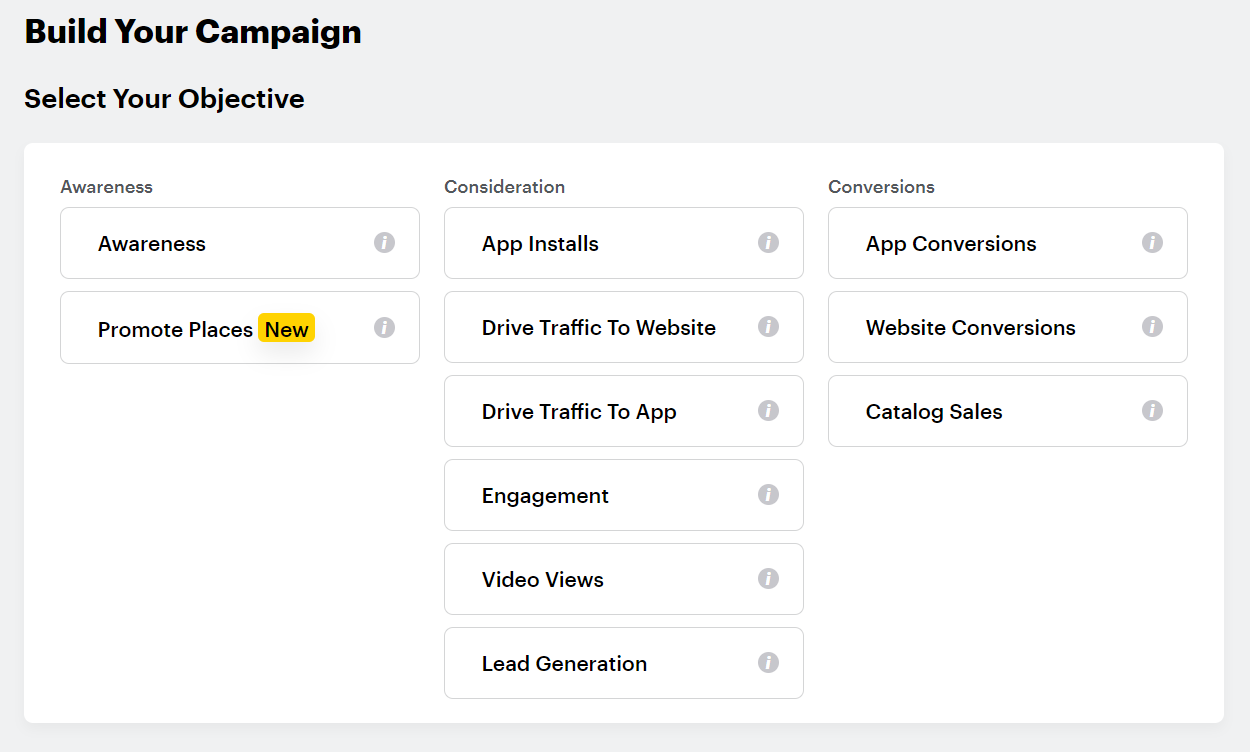 Awareness:
Awareness makes your business better-known.
Promote Places is a new objective that allows you to invite people to your brick-and-mortar shop.
Consideration:
App Installs redirects users to the app store to download your app.
Drive Traffic To Website sends Snapchatters to your website.
Drive Traffic To App leads people to your app or a third-party app.
Engagement gets people to interact with your ad.
Video Views lets you promote your business with the help of video content.
Lead Generation helps you get new leads.
Conversions:
App Conversions drives specific actions within your app.
Website Conversions makes users perform specific actions on your website.
Catalog Sales drives online product sales.
The objective you select influences what kind of people will see your ads and what types of bidding you'll be able to set, that is why our recommendation is to choose it according to the goal you want to achieve with your Snap ad.
After the objective is selected, you need to go through the Campaign level. Here, you need to come up with the following: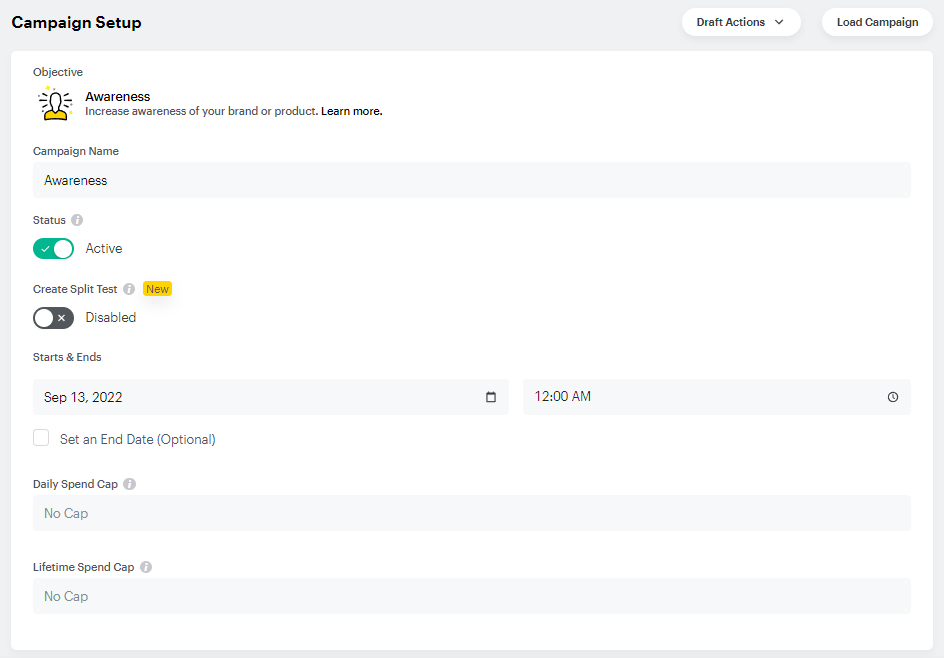 Campaign Name should be distinguishable for you to recognize a specific ad campaign among all the ad campaigns you've set up.
The ad's status is set to Active by default, so the ad will be launched on its start date. You can switch it to Paused if needed.
Split Testing allows you to compare different ad variables to find out which strategy performs best. For instance, you can test multiple creatives or target audiences. Find out more about Split Testing in Snapchat's guide.
The Starts & Ends section represents the schedule for the whole ad campaign, i.e. when it starts and ends (if needed).
Daily and Lifetime Spend Cap allow you to set a limit for how much will be spent for your campaign per day and during its lifetime.
2. Let's move forward to the Ad Set level. First, we need to name the Ad Set and, if needed, enable Snap Pixel to track the actions users take on your website and Snap App ID tracking to analyze what they do in your mobile app.

Set up the Budget and Schedule of your Ad Set. In case you have several Ads within this Ad Set, the budget will be automatically split among them.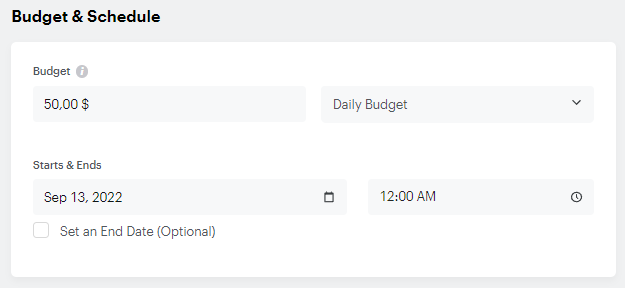 Think of where you want your ad to be shown. You can either use the Automatic Placement option and Snapchat will maximize your reach by showing your ad on all possible placements, or Edit Placement and manually select where your ad will be displayed.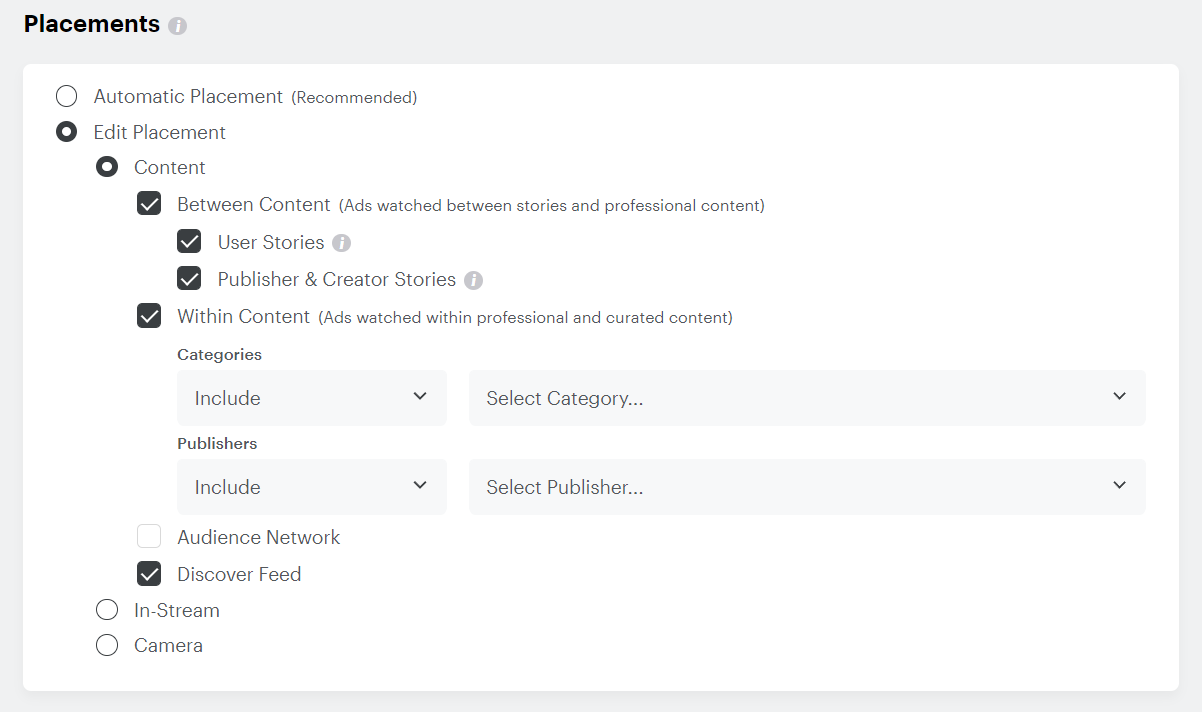 The next step is setting up an Audience. How are Snapchat ads targeted? Speaking of the Advanced Create campaign, you have more diverse options.
Start with Locations. You can include and exclude various countries, cities, and so on.
Next, set up demographic information, interests, and behaviors. In case you want to target people who've already interacted with your business, you can select a custom audience instead. Or else, to expand your reach, try using lookalike audiences. Here you can find more information about the types of Snapchat audiences.
If needed, you can also select a specific device and an operating system Snapchatters use.
The last step at the Ad Set level is the Ad Set's Delivery. First, set up the goal-based bidding by selecting a Goal to optimize the ad towards a specific action the users are more likely to take.
Then, depending on the Goal you've chosen, you'll have different Bid options. Auto-bid is available for every Goal. With it, Snapchat will spend all your budget to get the most goal actions.
At the very beginning of your Snapchat advertising journey, we'd recommend sticking to the Auto-bid option. When you get more experienced, you will have a better idea of what Goal to set. In Snapchat's guide, you will find more about all Bid strategies available.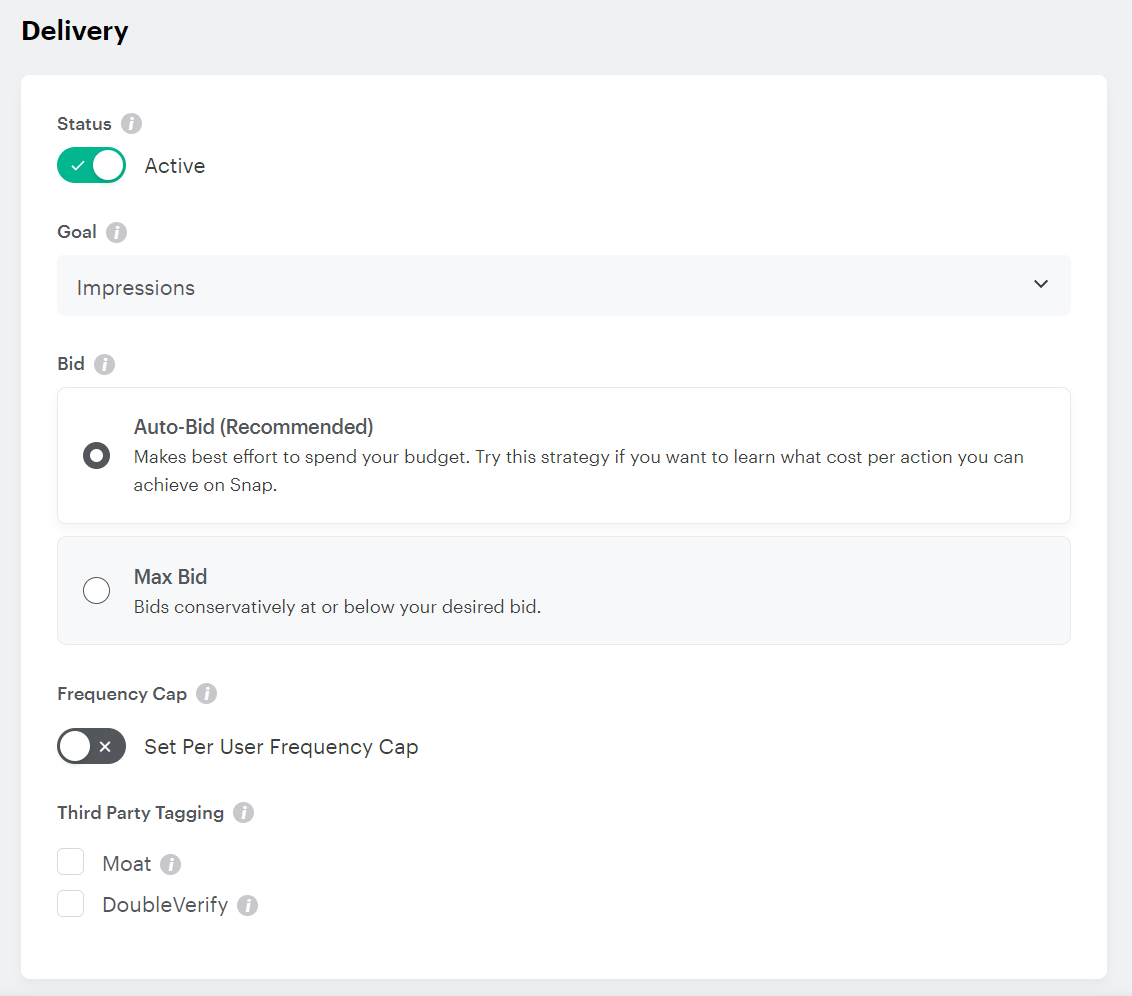 You can also turn on the Frequency Cap to avoid ad fatigue. It allows you to specify the maximum number of times your ads is shown to a user. We'd recommend setting a lower Frequency Cap so that your audience is not annoyed by constantly seeing the same ads over and over again.
If you need to add any tracking tags, you can tick them in the Third Party Tagging section.
3. The Ad level represents the visual appearance of your ad.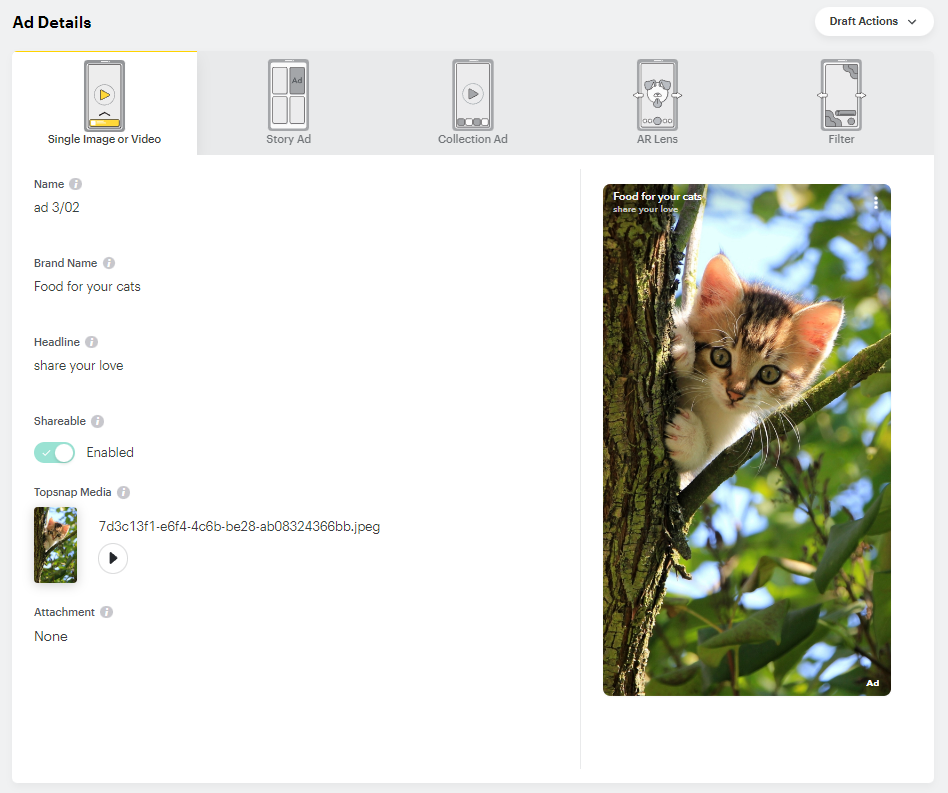 You'll need to select the ad format. The options you have depend on the Campaign Objective, as well as the countries you're about to target.
Here are all the types of Snapchat ads:
Single Image or Video are full-screen ads that can be used for all objectives. They appear in between Snapchat content, e.g. stories.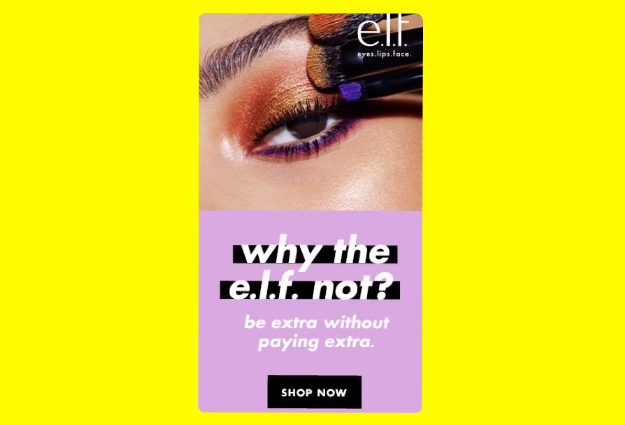 Story Ad appears in between content, or with a branded tile in the Discovery section. This ad type allows to reach users with a series of ads.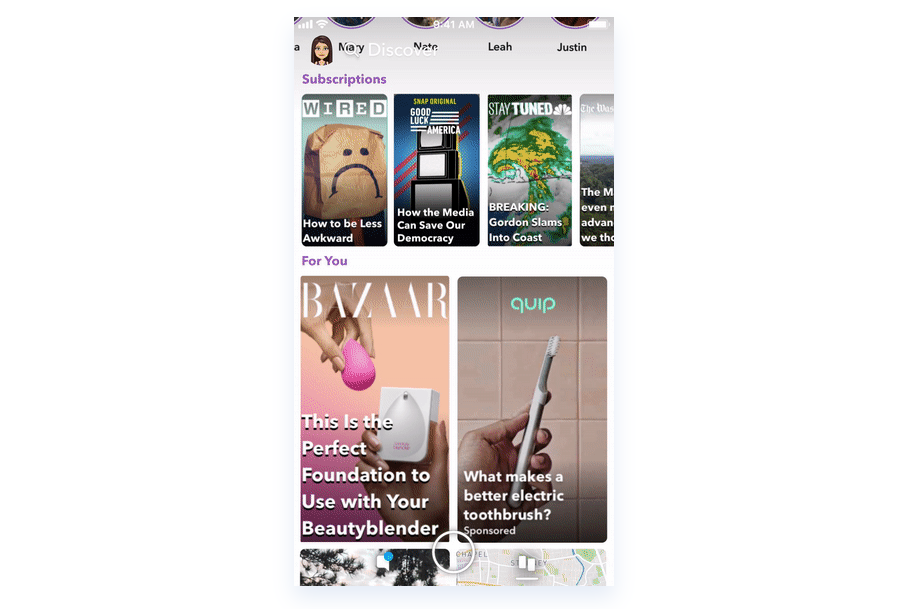 Collection Ad is a single image or video with four tappable tiles to feature products. Such ads appear in between stories and Publisher content.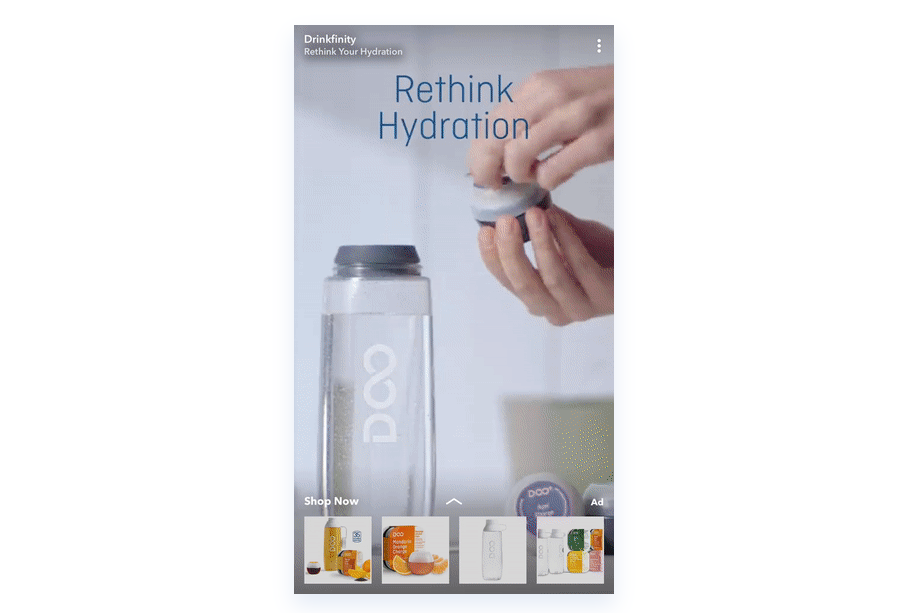 Filters are fun overlays that appear when a user takes a Snap. They contain stylized texts, images, and artistic effects.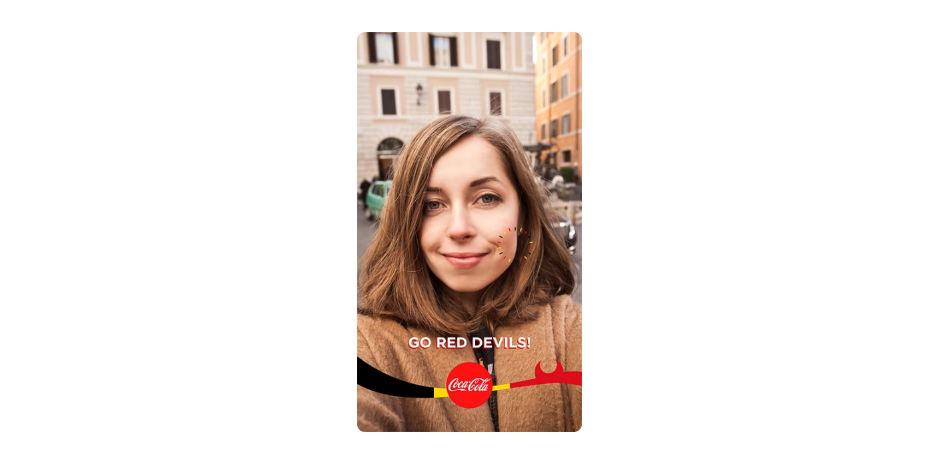 AR Lenses use augmented reality experiences that allow people to add objects and animated characters in their Snaps. It includes such options as puppy ears, various masks, flower crowns, and so on.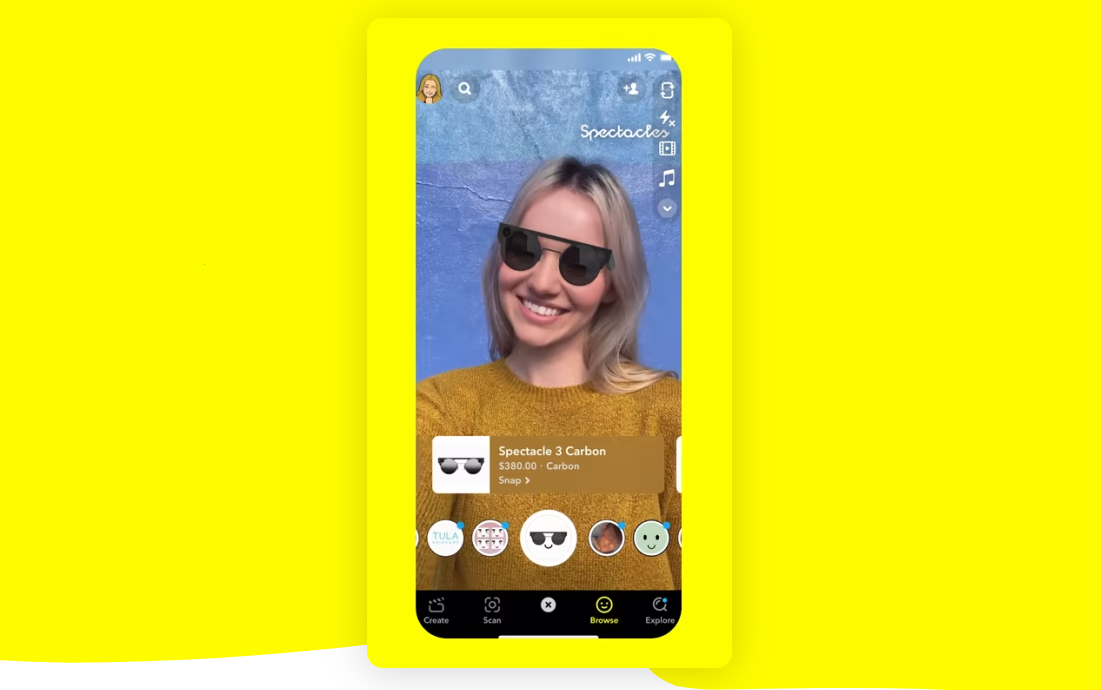 Commercials are non-skippable six-second video ads that appear within Snap's curated content. They can be up to 4 minutes long but the unskippable part can last for only 6 seconds.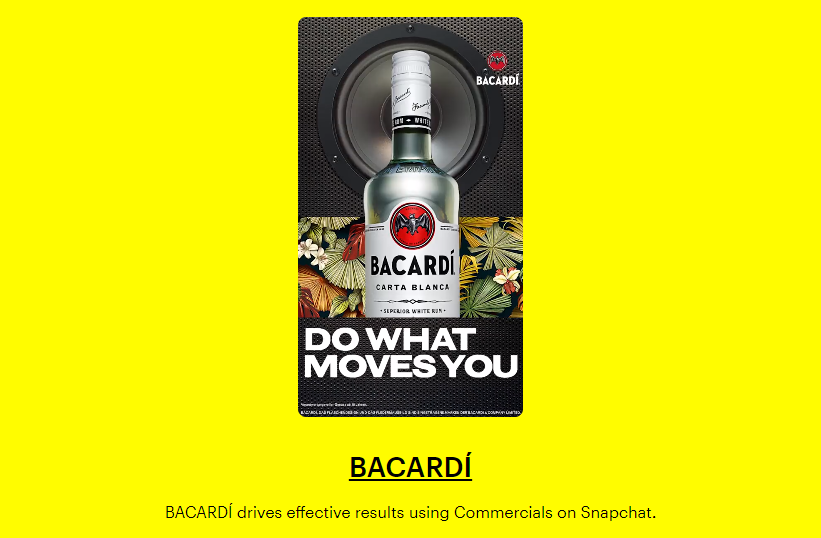 Depending on the ad type you've selected, you will need to complete different settings such as headlines, attachments, URLs, CTAs, and so on. Snapchat provides convenient tooltips that will help you understand each of the settings.

The final step is setting up ad's Delivery. Select whether your ad will be active once approved and, if needed, set Impression Tags. Those are third-party click trackers that will measure the number of impressions your ads have.
Click on Review & Publish and go through all your settings once again. Snapchat will need some time to review your ads before actually publishing them.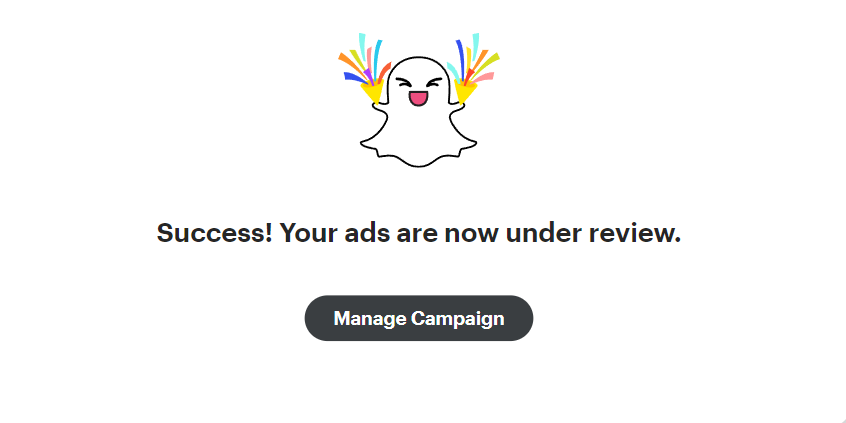 4. After the ad campaign is launched, you will be able to track its performance and analyze its results with convenient line graphs and tables. Convenient line graphs and tables will let you track your ads' performance and analyze their results.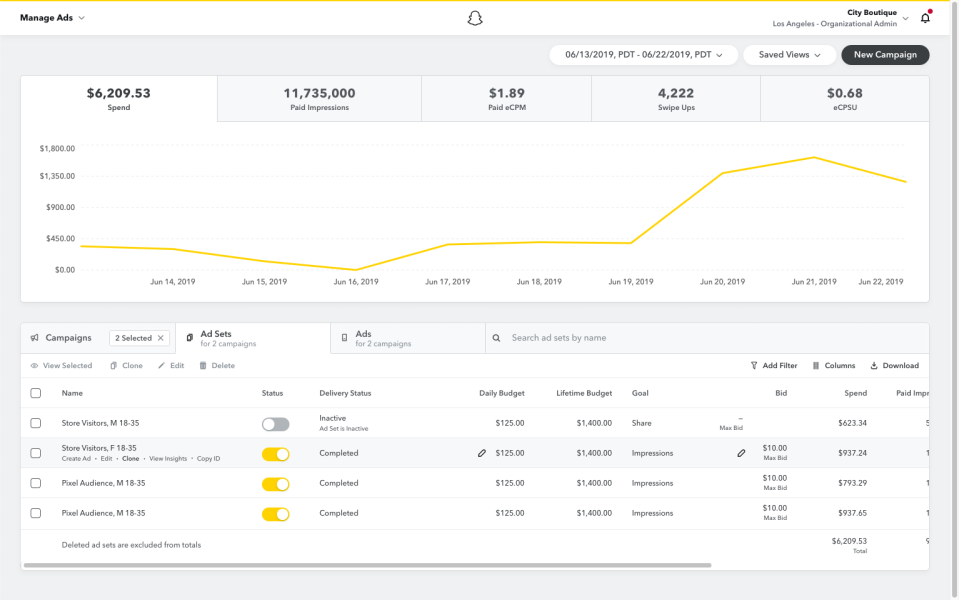 Ad monitoring is essential and should not be neglected. It gives you an idea of what is happening with your ads, and what needs to be optimized or radically changed. Analyzing ads' performance and making necessary adjustments in time is a key to running a successful campaign.
Also, the "Download" option will let you get all the ad reports in the CSV file, if needed.
Snap ads tips
Now when you know the flow of setting up an ad campaign, here is what will help you launch successful ads:
Knowing your audience
Even if Snapchat is one of the most popular advertising platforms, keep in mind that it is mostly used by people of 18-24 years old. So, you need to make sure that your audience is within this age range and that your ads are appealing to such people and follow all the modern trends.
To reach your exact audience, don't hesitate to apply additional geographic, demographic, and interest filters. You need to clearly understand your buyer persona to target the ones who will actually be interested.
Showing your offer to the possible fullest
Remember that your ad's aim is to engage people and make them want to learn more. At the same time, the ad needs to provide all the information needed. Indeed, it can be difficult to embrace literally everything in a 5-second video, so make sure it showcases the main message including special offers and discounts.
Retargeting ads
Showing your new ads to the same people who saw the previous ones may increase your conversion rate significantly. This way, you'll get an additional interaction point with potential clients thus having your brand exposed even more.
Using different creatives
It sure would be convenient just to use the same images over and over again but it would eventually lead to ad fatigue making users sick and tired of seeing them. Preparing different creatives will catch people's attention and show that you really care about your audience.
Testing various ad formats
A/B testing has always been a key point in launching ads on all platforms. Snapchat offers a wide range of formats you can utilize, so we'd recommend testing them all to see which ones bring more impressions and conversions.
Conclusion
Are Snapchat ads worth it? Well, we believe they can be useful for any kind of business. Snapchat Ads Manager is intuitively organized and you will be able to conveniently run ads using it. With our step-by-step guide, we're sure you are now ready to advertise on Snapchat.