Holiday Season Marketing: Prepare for Christmas Sales

Thanksgiving, Black Friday, and Cyber Monday might be over, but that doesn't mean that the sales are. Holidays are just around the corner: Christmas, Hanukkah, New Year – it's a season full of magical moments when all we want is to spend time with our loved ones, and what's also very important – give and receive gifts. And who if not your business can help people with that?
But before we start implementing some holiday marketing strategies, we'll need to take into account the current situation. Some reports, including Adobe's Holiday sales forecast for 2022, are predicting weaker sales growth during this holiday season as people are not ready to increase their holiday spending due to inflation and increased costs of living.
What also seems likely is that the discounts will be at an all-time high during the end of the holiday season, meaning that businesses will have to compete hard with each other for customers' attention. However, the demand for holiday shopping is still there, so there's always a chance for success.
Regardless of whether your holiday campaign is already in the full swing or is yet to kick off, you can still benefit from the marketing strategies we'll go through in this article. So, don't waste any time, and start working on increasing your December sales now!
Make it easier to purchase your products with BNPL
One of the fintech inventions, a BNPL ("buy now, pay later"), allows customers to pay for their purchases through a series of zero-interest installments during a specific time period. This payment method has proven to be highly effective in increasing sales and customers' lifetime value – in short, it's just as convenient for businesses as it is for customers.

Besides, the usage of BNPL is predicted to surge during holidays because it is a great way for customers to deal with rising costs and inflation. By including BNPL as a payment option on your website, you can help minimize the obstacles for your customers. They'll get more flexibility with their payments and thus a better customer experience, and you'll get more conversions.
Notice that the companies that provide BNPL opportunities such as Klarna, Affirm, or Sezzle take all the risks, which means that you won't lose anything even if a customer doesn't end up making all the payments.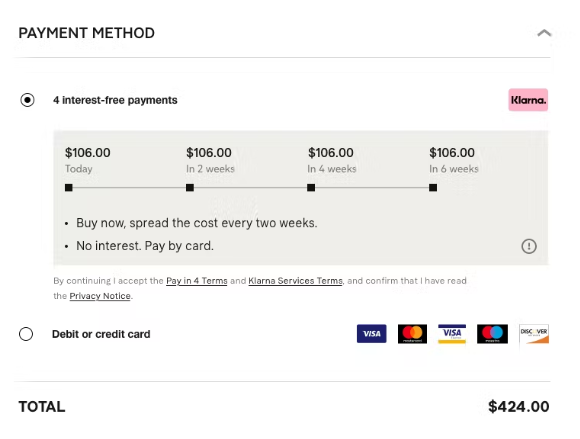 Klarna is one of the top BNPL payment providers on the market, and many successful e-commerce shops already have Klarna payments on their websites and apps.
Create a festive atmosphere on your website and/or app
As Valentine Davies said, "Christmas isn't just a day. It's a frame of mind", and that's exactly what makes these couple of weeks feel magical – it's all about the atmosphere and the mood.
That's why malls and shops start to play Christmas tunes and put their holiday decorations on display in the early days of November: marketers know all about the importance of creating a cheerful holiday mood to make people spend more.
Even if you're not running a brick-and-mortar store, you can still create a holiday atmosphere by giving your website a holiday look. It doesn't mean that you need to change your website design completely: just work with some UI elements like buttons, CTAs, popups, banners, and so on to make your website look festive.
Here are some things you can do to achieve that:
choose colors associated with the December holidays (red, green, and golden) and Christmas-themed visuals (images, photos, icons, etc.);
enhance your usual messaging with holiday-themed slogans and copies, but stay within the limitations of your tone of voice and brand personality;
put your holiday offers at the center of attention: for example, by displaying eye-catching banners at the top of the page for your best deals and top-rated products. Also, don't forget to keep an eye on which items are out of stock – you don't want to mislead your audience.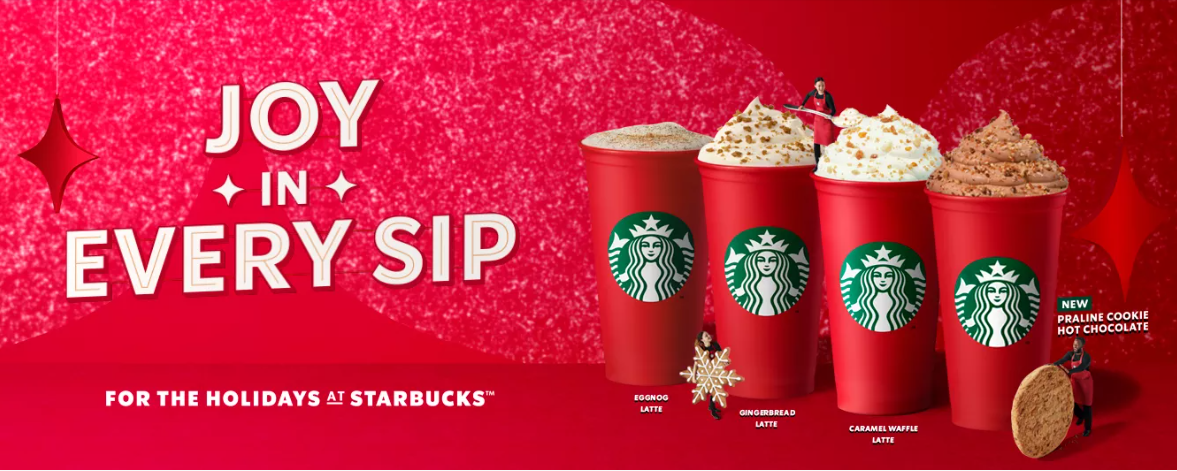 Starbucks has truly mastered the art of seasonal promo: you can only try these drinks during the holiday season, so hurry up! That's how you appeal to customers' fear of missing out and aesthetic senses.
If you're running a Shopify store, the whole process can be even easier for you: there are a lot of apps that can help add cute details to your website without effort.
When decorating your website, don't forget to make sure that everything looks good on the mobile version as most shoppers use their phones to look for brands and items online. Besides, your website's loading speed should still be fast enough even with all of the holiday flair added to it.
Attract customers with holiday discounts and offers
In uncertain times like those we're living through now, many businesses will try to entice customers with discounts that tend to be bigger and bigger as New Year approaches.
That's why it might be helpful to research what discounts and deals your competitors offer this December to know how you can compete with them. You don't necessarily have to offer bigger discounts than other brands in your niche: you can outcompete them in other ways, for example, by offering something they don't.
Here are some things that you can offer to your customers this December:
personalized discounts and coupons based on previous purchasing activity, loyalty status, location, etc.
increased discounts on the following or repeated purchases (this works great for customer retention);
free gift cards as a bonus for purchases of certain amounts (for example, a $20 gift card for each $100 spent);
discounts and deals for people who didn't end up making a purchase to solve the cart abandonment problem;
short-term discounts and flash sales on high-value items.
When you land on The North Face's website, the first thing you see is their best offer this December.
Another great way to make human psychology work for you is to offer BOGO, or buy-one-get-one, discounts. Your customers can get the second item completely for free (and thus buy 2 for the price of 1), or purchase it for a discounted price. This works well for items that are usually bought in bulk, like popular gift items, decorations, or holiday sweets.

Kitchen Stuff Plus' BOGO offer on their website is simple and straightforward.
In order to let people know about your discounts, use countdown timers or banners to make the information visible and create a sense of urgency.
Keep in mind that if you're offering your products at a lower price too often, your audience's incentive to buy from you during holidays won't be as strong. We value opportunities that rarely present themselves, and that includes holiday sales as well. So choose the right time for discounts and deals to make your offers more attractive. You can also give people a sense of exclusivity by making certain offers available for a specific category of customers only.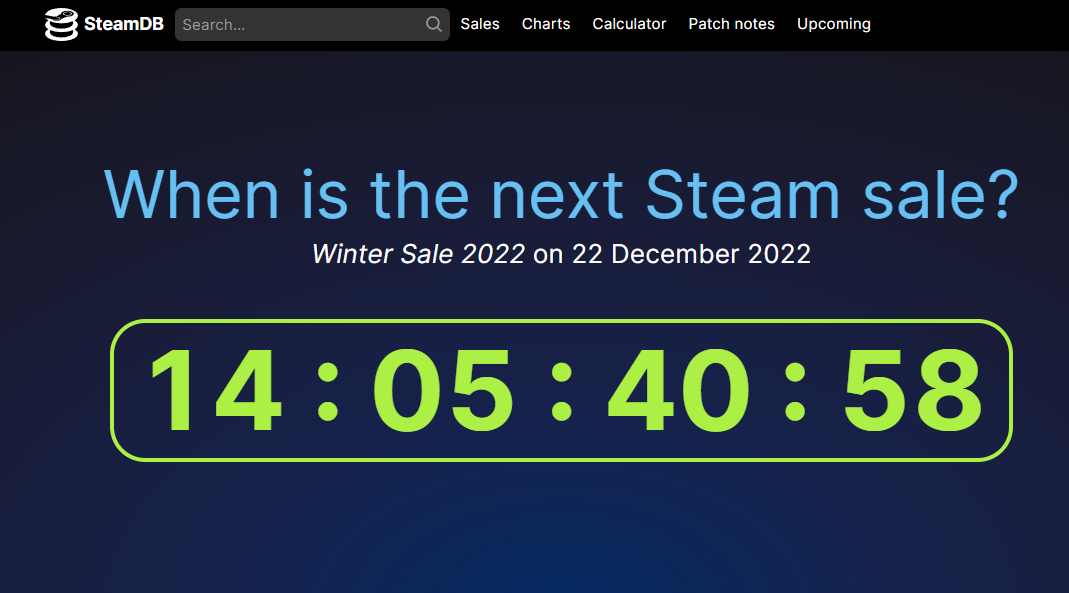 Countdown timers, like the one on the Steam website, make the sale feel like some huge event you cannot miss.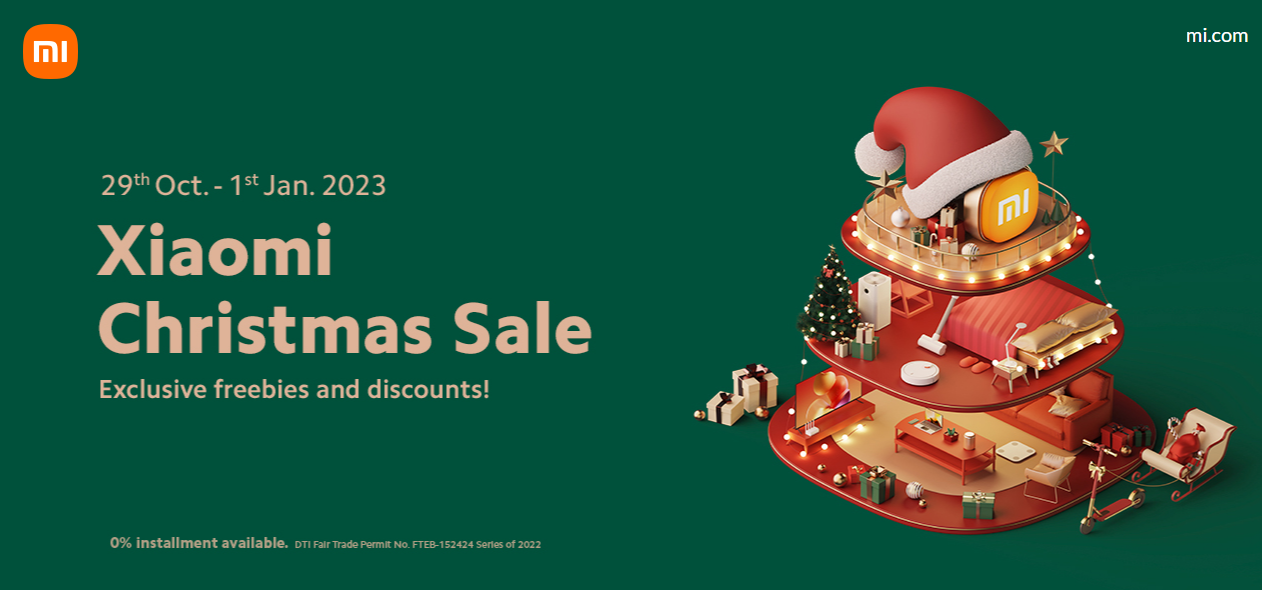 Deadline dates like on Xiaomi Philippines' website are not as flashy as a countdown but also get the point across perfectly.
Also, don't forget to let your customers know about your offers and discounts by sending them a series of emails with all the details (like the dates on which the offer will be valid). A timely email campaign can prompt people to get back on your website, especially if you appeal to people's FOMO with your time-limited deals or just wish them happy holidays.
Help people find the perfect gifts by…
Creating gift guides
Gift-giving can be a very rewarding process that makes us feel good. Gift-choosing, on the other hand, can be a struggle, especially when you have to pick personal gifts for all of your loved ones. More than likely, your customers will experience this problem at some point, and you can help them make a decision with creative gift guides.
These guides can offer gift options based on the gift-recipient (e.g. gifts for SOs, friends, parents, colleagues, relatives, etc.), the purpose of the gift (like self-care, fitness, health gifts, etc.), and even social causes (for example, sustainable gifts). You can team up with other brands and stores and create gift guides in collaboration: your products will get more exposure, and so will the products of your collaborators. It's a win-win situation for everyone involved.
Don't forget to optimize your gift guides for search to make them more discoverable and drive more traffic to your website.

Chanel's guides to gift-giving for those who prefer luxury.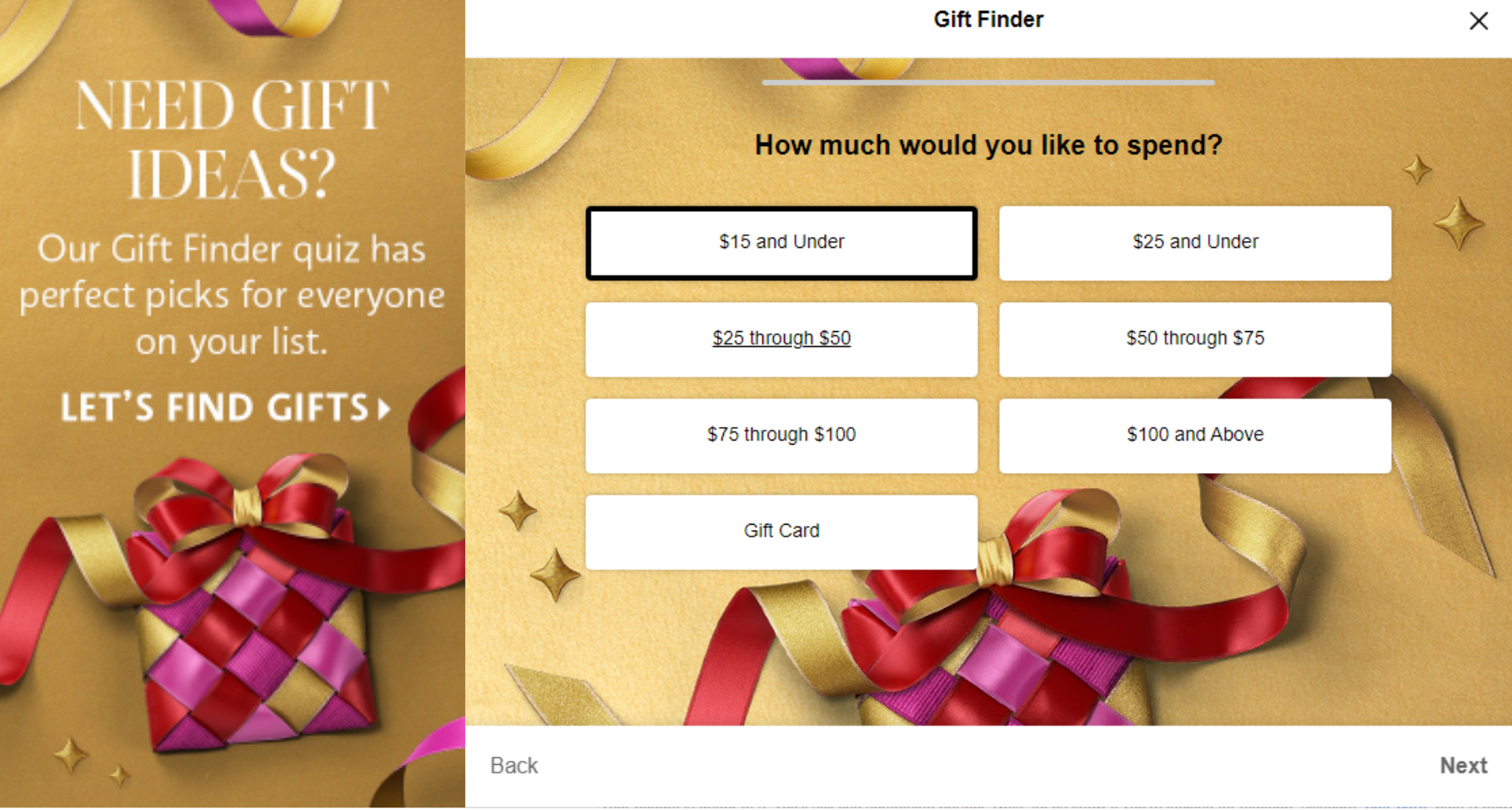 Gift quizzes, like the ones by Sephora, can be very helpful for indecisive gift-givers.
You can also give your customers product recommendations based on the top searched products at the moment, product category or price, or even gift recipient. This can help people explore potential gift options they might not have thought of before, and put your products in the spotlight which is always a plus.
Offering gift bundles…
This is a great way to incentivize people to buy more items: they buy a perfect gift and save some money in the process, and you get more conversions by cross- and upselling.
Pair up your best-sellers with related items to create a perfect gift for every kind of gift receiver. For example, you can make a bundle with skincare products for those who are into skincare, a bundle that includes productivity-related items for those with self-improvement on their list of New Year resolutions, and so on.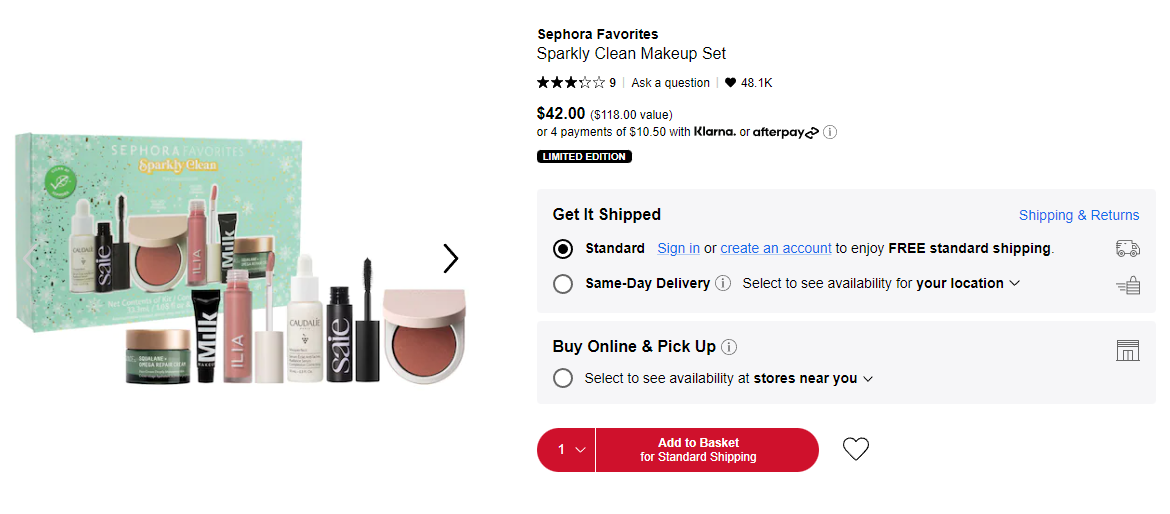 Sephora's bundles are not only a great option for a gift but they're also cheaper than purchasing the items separately.
… or gift cards

Amazon offers special Christmas gift cards with all kinds of designs.
Offer Free Shipping
When you're purchasing multiple gifts for your friends and family, the additional costs such as shipping fees can quickly accumulate, putting a strain on your wallet. This is yet another hindrance for customers, making them more likely to go and look for another E-commerce store offering similar products but with cheaper or free shipping.
According to Adobe, shipping costs are where a lot of customers draw the line when it comes to holiday shopping. To meet their expectations and give them the incentive to purchase from you, consider providing free (or just cheaper) shipping on your products: for all items or for specific categories only, for orders of every size, or only for purchases above a certain threshold, and so on.
This can be a time-limited offer that appeals to the sense of urgency palpable on the days preceding Christmas and other holidays. Make sure, though, that everything can be delivered on time before the big date: people want their shopping experience to be as smooth as possible during holiday preparations, and you can make it possible.
Follow Patagonia's example and let your customers know when your shipping offers end.

Besides shipping, you can also make buying from you more attractive by offering holiday packaging and gift-wrapping options – the more convenient and easy the process of buying gifts is, the more likely your customers are to make a purchase.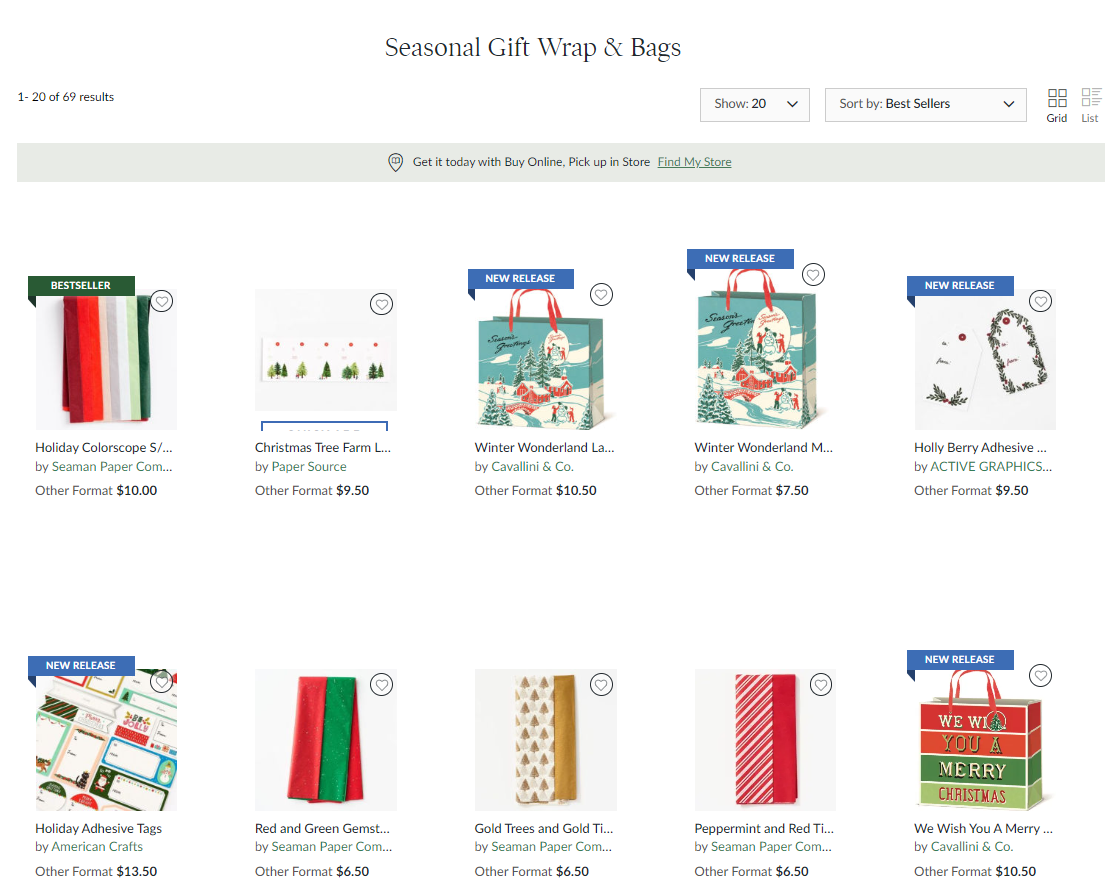 Barnes & Noble serves as a great example: they offer a variety of packaging options to make gift-giving as easy as possible.
Run giveaways & contests to get more engagement
It might not seem obvious at first, but giving a limited amount of your products away for free can actually end up generating more sales for you.
It works like this: people eagerly participate in your contest (for example, they post Christmas-themed user-generated content with your products and branded hashtags), the others notice it due to social media hype, and finally, your traffic, engagement, and conversions grow. Not only it helps you increase brand awareness and the number of your potential customers, but it also creates a true holiday atmosphere amidst the chaos of preparation.
So, choose what your audience will need to do in order to receive gifts, and make them special so that the customers can feel a sense of miracle this December. You can offer them various kinds of prizes: a gift bundle, a year's worth of products or services, a masterclass, free event attendance, and so on.
Get exposure with social media holiday campaigns
The best way to let your audience know about your special holiday offers is by running timely campaigns on social media. This includes both content marketing and advertising campaigns: by combining them together, you can easily boost brand awareness and reach out to more people.
Here are some tips on how to do holiday promotion the right way:
run retargeting campaigns for people already familiar with your business to let them know you have special offers for holidays;
run keyword-based ad campaigns (for example, on Google) to target people searching for products like yours during this holiday season;
run ads with time-limited offers or promo-codes to get more clicks and conversions;
schedule your ads to run during times when your potential customers are more active;
put your brand in the spotlight by creating quality holiday-themed content and reposting the content made by your customers with holiday-related branded
hashtags (the so-called UGC);
partner up with influencers to spread the word about your brand (tip: choose creators whose audience will find your products relevant, e.g. skincare bloggers if you own a cosmetics brand);
collaborate with charity organizations to show that holidays are the right time to help those in need.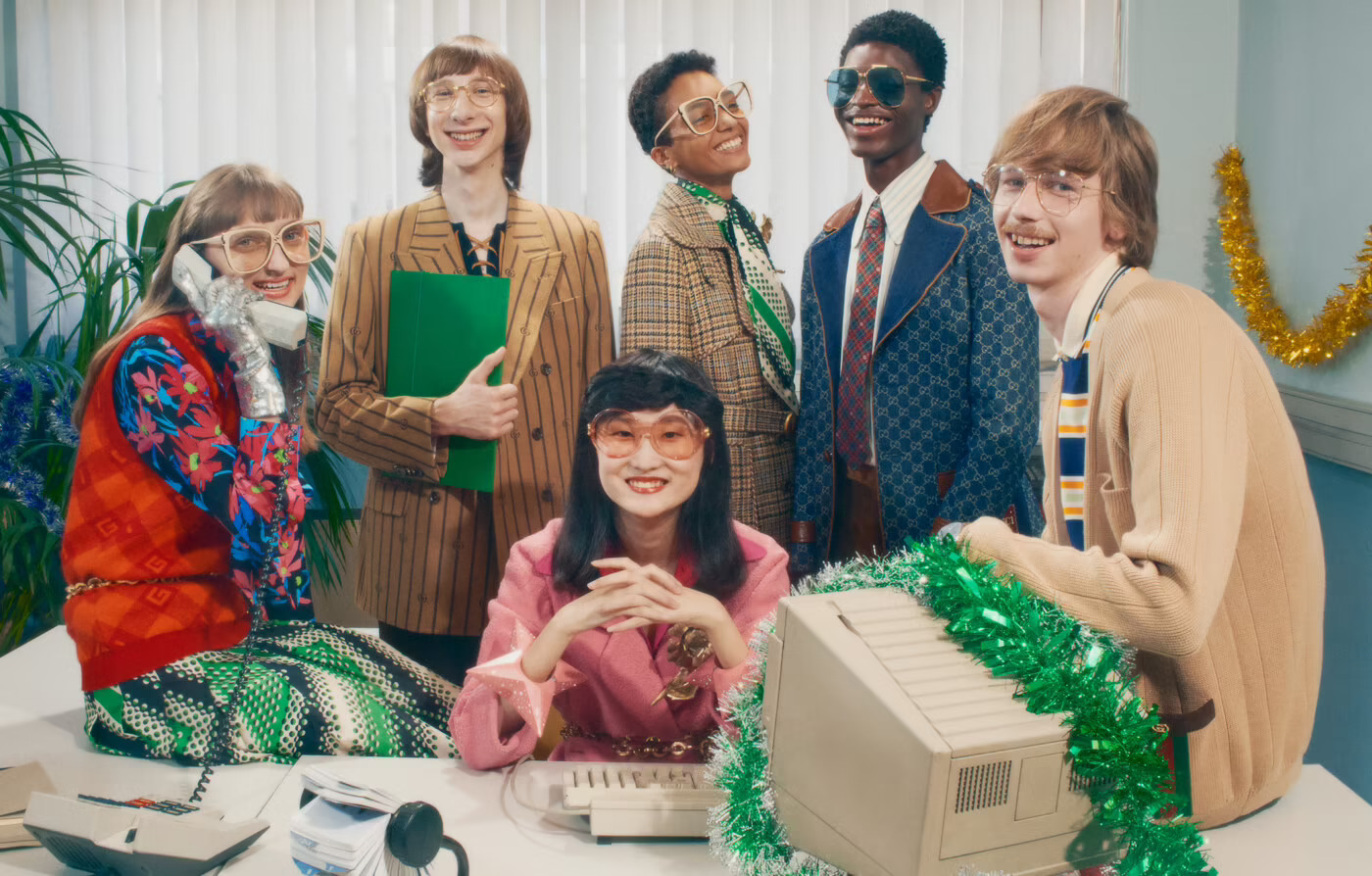 Gucci's 2020 Christmas campaign is an excellent illustration of creating content that's not just promotional but also memorable.
To wrap up
Before adopting holiday marketing strategies it's better to research what your audience needs. It might be helpful to answer the following questions:
What kinds of offers work better for your customers: time-limited offers, offers with significant discounts, offers on specific product categories, etc.?
Where does your audience usually spend their time? Reach out to them through marketing campaigns where it makes the most sense.
What are your customers' priorities: low prices, fast shipping, or personalized offers?
You should also reflect on your past holiday campaigns and assess their results to decide what might be the best option for you this year: choose the strategies that have proven themselves to be effective and start implementing them.
And don't forget that while December might be close to an end, there will still be countless opportunities to implement these strategies next year when new holidays come around again.
Good luck with your marketing campaigns! And Happy Holidays, of course. Ho-ho-ho.